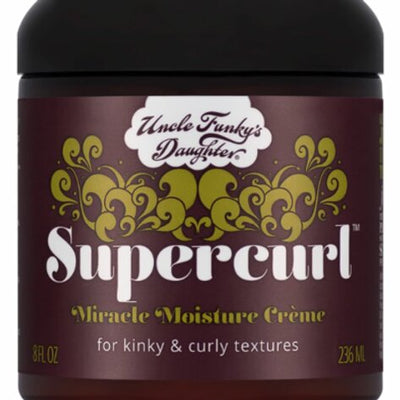 Roll over image to zoom in
Description
Dry curls have no fear, extra moisturizing Supercurl Miracle Moisture Crème is here! Corkscrew curls, two-strand twists, twist outs, and wash-and-gos are a breeze with this moisturizing crème.
This creamy hydrator has dual-power abilities to stretch out and detangle curls in very kinky, tight textures, yet define curls in medium to loose curly textures.
Creamy hydrator stretches out kinks, defines curls & softens dry, brittle strands.
Sweet almond oil helps moisturize and leave an elegant feel to the hair.
The oils and proteins in coconut oil work well to help keep hair from losing protein, which is one of the major contributors to hair breakage and hair loss. Coconut oil also helps keep the scalp moisturized.
How to Use:
Detangling extra dry, super tight curls. Use for finger-twisting. Great for styling two strand twists and coil outs.
Payment & Security
Your payment information is processed securely. We do not store credit card details nor have access to your credit card information.