Roll over image to zoom in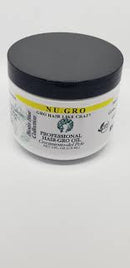 Description
Hair-GRO Oils are "Step 4" of the 4 Steps to Hair Growth.  
Hair Oil moisturizes the scalp and increases growth, moisture and shine.  Also helps prevent dandruff, dry scalp, brittle hair and dull hair.  Perfect for thin, balding patches, edges or temples. Help quickly regrow hair after chemical damage or medical/chemo treatments.   Most see good hair-growth results in 2-3 weeks.   NU-GRO is made with 100% Herbs & Vitamins.  NU-GRO feeds and nourishes your hair.  All these products contain Biotin.  Money-back guarantee.
Professional Hair-GRO Oil - Professional/Salon strength formula. Promotes fast growth, thicker, healthier stronger hair.
Super "Concentrated" - Super strength for faster growth, thicker hair and healing of damaged hair.  Made with a concentrated version of 100% herbs and vitamins. Apply daily
Payment & Security
Your payment information is processed securely. We do not store credit card details nor have access to your credit card information.