Roll over image to zoom in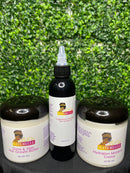 Description
Grapeseed & Avocado Hair Growth Oil is made with 100% natural and organic ingredients. It is made with Grapeseed & Avocado carrying oil and essential oils that promote hair growth.

How to Use:
Use daily. For better results, apply oil to the scalp and sit under a dryer for 15 minutes at least twice a week. Applying heat will allow for more penetration, which liquefies the oil and that will give you more absorption.
Grow & Slay Hair Growth Butter is made with Mango & Shea Butter and essentials oils that heal, strengthen, and promote hair growth; while giving you shine and hydrated hair. This can be used for twist outs before adding your favorite styling gel. This butter also helps people who suffer from alopecia. Made with 100% natural & organic ingredients.

How to Use:
Apply butter beginning at the ends of your to hair to your roots. Massage into your scalp, in doing so it will encourage blood circulation which will help your hair follicles to receive the nutrition it needs for healthy hair growth. It can be used daily and for your twist out hairstyles.
This Hydration Moisture Creme is a must-have product to keep your hair moisturized while adding luster to your hair. It is a lightweight creme that won't weigh your hair down.

How to Use:
You can apply this creme on wet or dry hair. After washing your hair, apply the creme to seal in the moisture. This creme can be used just before adding your gel for your twist outs hairstyles.
Payment & Security
Your payment information is processed securely. We do not store credit card details nor have access to your credit card information.