Roll over image to zoom in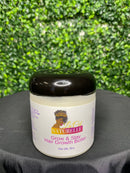 Description
Grow & Slay Hair Growth Butter is made with Mango & Shea Butter and essentials oils that heal, strengthen, and promote hair growth; while giving you shine and hydrated hair. This can be used for twist outs before adding your favorite styling gel. This butter also helps people who suffer from alopecia. Made with 100% natural & organic ingredients.
How to Use:
Apply butter beginning at the ends of your to hair to your roots. Massage into your scalp, in doing so it will encourage blood circulation which will help your hair follicles to receive the nutrition it needs for healthy hair growth. It can be used daily and for your twist out hairstyles.
Ingredients:
Mango Butter, Kukum Butter, and Illipe Butter. Sweet Almond Oil, Jojoba Oil, Olive Oil, Avocado Oil, Rice Bran Oil, Grapeseed Oil, Vitamin E Oil, Ylang Yang Oil, Basil Oil, Stinging Nettle, Ginkgo Biloba Extract, Ginger Root Extract, Saw Palmetto Extract, Horsetail Oil, Blackseed Oil, Hemp Oil, Emu Oil, Lavender Oil, Peppermint Oil, Lemongrass Oil, Calendula Oil & Biotin.
Payment & Security
Your payment information is processed securely. We do not store credit card details nor have access to your credit card information.