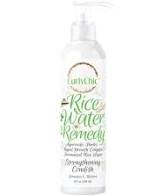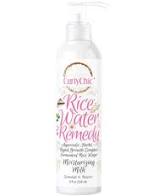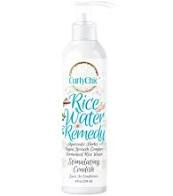 Roll over image to zoom in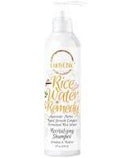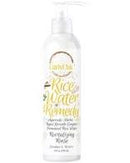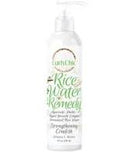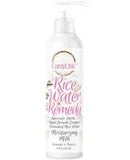 Description
Step 1 Curly Chic Rice Water Remedy Revitalizing Shampoo 12 oz
Rice Water Remedy shampoo is a luxuriously creamy and invigorating shampoo. RRM shampoo cleanses without stripping or drying out your hair. This shampoo is rich in vitamins, minerals, and protein. Restores and rebalances your curls natural moisture and elasticity. Promotes healthy hair growth.
Sulfate-free. No parabens, phthalates, petrolatum or mineral oil.
Step 2 Curly Chic Rice Water Remedy Revitalizing Rinse 12 oz

Rice Water Remedy Revitalizing Hair Rinse helps to restore and rebuild lackluster hair. RWR promotes cell regeneration and nourishes your hair from deep within. Ayurvedic herbal extracts and oils promote healthy growth. Rice water has a naturally nutrient-rich composition that helps to improve the overall condition of your hair. Detangles and moisturizes.
Step 3 Curly Chic Rice Water Remedy Strengthening Condish 12 oz

Our Rice Water Remedy strengthening deep conditioner fortifies hair and increases flexibility to help prevent breakage and split ends. RWR Strengthening Deep Conditioner is a protein balanced, ultra-moisturizing conditioner that repairs and protects your hair while leaving it soft, shiny, and manageable. Rinse out the formula.
Step 4 Curly Chic Rice Water Remedy Moisturizing Milk 12 oz

Rice Water Remedy Moisturizing Hair Milk is a very light, slightly creamy moisturizer with excellent detangling and cuticle smoothing properties. This amazing milk provides remarkable slip to remove knots and nutrient-rich hydration to revive dry and brittle hair.
Step 5 Curly Chic Rice Water Remedy Stimulating Condish 12 oz

Our Rice Water Remedy "Extra Light" Stimulating Curl Creme (Leave-In) is infused with Ayurvedic herbs and oils that stimulate the scalp and nutrient-rich rice water that penetrates deep within the hair to strengthen and protect. This product will leave your hair soft and moisturized without weighing your hair down.
Payment & Security
Your payment information is processed securely. We do not store credit card details nor have access to your credit card information.