Roll over image to zoom in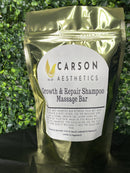 Description
This plant based treatment will help to provide nutrients and vitamins that result in a healthy scalp. Your crown will be restored and stimulate new hair follicles that generates new growth.
DIRECTIONS
To use shampoo bar, wet hair thoroughly, run water over bar; gently smooth the bar from hairline to crown, or work in little circles around your head, working all the way around your hairline. Rinse throughly. Hair massager on one side and Exfoliates on the other side. Approximately 45 hair washes.
INGREDIENTS
Coconut Oil, Shea butter, Castor Oil, Olive Oil, Cedarwood Oil, Rosemary Oil, Lavender Oil, Peppermint Oil
Payment & Security
Your payment information is processed securely. We do not store credit card details nor have access to your credit card information.