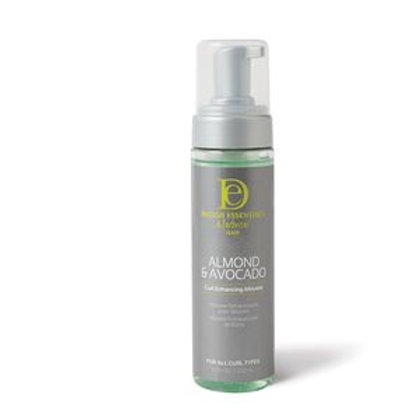 Lightweight formula great to refresh curls daily without weighing down hair
Great for finger coiling, twist outs and wash and go styling
Made with natural ingredients to promote healthy hair care
Adds shine, softness, curl, and provides style versatility
Revitalizes curls with light hold for definition
Design Essentials® Natural Almond & Avocado Curl Control & Shine Mist revitalizes and defines curls by infusing moisture and nourishing botanicals and oils to the hair shaft for luminous controlled curls and coils. Formulated with a replenishing blend of Sweet Almond, Avocado, and Coconut Oils, along with Chamomile Flower and active botanicals, it restores hair strength, curl elasticity and defies humidity for frizz-free curls. Lightweight formula tames, extends your natural style and is great for daily use.
Almond & Avocado Curl Control & Shine Mist 7.5 oz